Meet Our Donors
Alumna Wants To Share With Future Students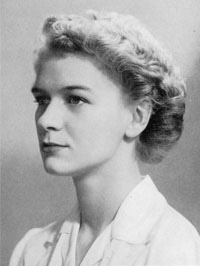 When Maurine Gerwig, née Reiser, had to consider a university, she jumped at the chance to travel from her native Springfield, Ill., to St. Louis.
The 1950 graduate has never regretted it. She and a friend boarded in an off-campus home for their first year, then stayed in a three-person suite in the original Fine Arts building during their sophomore year. And in 1948, Medaille Hall was completed, providing the girls with their own brand-new single rooms.
"Fontbonne gave me a very good education and background for what I wanted to do," said the former biology major and chemistry minor.
But her experience wasn't simply school — it was about living life. She attended dances in Medaille Hall, and had the most fun at College Day, an autumn event when students would decorate their cars and drive in a parade to Carondelet for Mass.
After she graduated, Gerwig interned in medical technology at St. Louis County Hospital. She wanted to see the world, so she worked in Texas for the next few years, then moved to the Chicago area. She married and had one son, Stephen. Sadly, he was killed in a car accident. Her husband, John, passed away in August 2008. Gerwig is grateful for a good family, a job she loved and an education that made her dreams possible, so now, she firmly believes in giving back.
She has planned a legacy gift for Fontbonne. Her gift will benefit the science laboratory in Anheuser-Busch Hall. For years to come, inquisitive, driven students — much like Gerwig — will walk in her footsteps and remember her legacy.
"That's what it's all about," Gerwig said. "You have to give back. The schools need money to help students who can't afford their tuition. As long as you can afford it, you should. I would encourage anyone to go — and to give — to Fontbonne."
Please give now and support Fontbonne's greatest resource…our students.