Meet Our Donors
A Passion and a Calling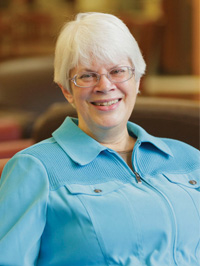 Mary Lee Walter taught for 43 years at St. Joseph's Institute for the Deaf, a position that was more than a job or even a career — it was her life's work.
Walter discovered Fontbonne when her high school English teacher, a nun, took a small group of her class from Rock Falls, Ill., to St. Louis to visit her actual sister, a teacher at St. Joseph Institute for the Deaf as well as an instructor in the deaf education program at Fontbonne. Walter had the opportunity to witness an SJI class in session, and it was then she knew: "This is what I wanted to do."
"Then, it was an all-girls school," she remembered. "Only a few students had cars; most of us were marooned on campus. But this was actually beneficial. You knew everyone really well. My college friends have become lifelong friends."
Between her friends and the instructors and teachers in the deaf education program, Fontbonne became her home away from home.
Throughout the next 43 years, she reveled in challenges, like helping students overcome dyslexia or using creativity and resourcefulness to successfully meet the needs of each child. For Walter, who would later also become an instructor in the deaf education program at Fontbonne, teaching was — and is — a natural inclination, and her time at Fontbonne helped her refine that inclination into an exceptional talent.
Her lifelong connection to Fontbonne and the impact the university had on her life and career prompted her to ensure that future students — and future teachers, like her — would have the same opportunities.
"I still hear from families and students I've taught," Walter said, smiling. "That's when you know you've had an impact on their lives."
Please give now and support Fontbonne's greatest resource…our students.