Meet Our Donors
The Importance of Giving Back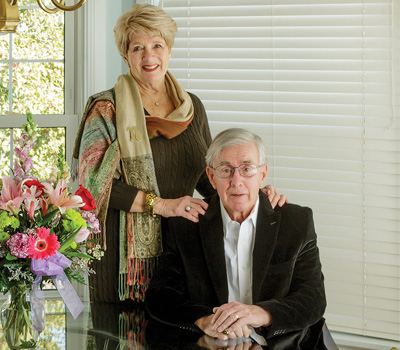 When Nancy Jersa graduated from Fontbonne University in 1961 with a Bachelor of Arts in Education, she was the first in her family to earn a college degree.
"I have 13 cousins, and I'm number 12 of 13," Jersa said. "After I got my degree, my older cousins got theirs. And they all became teachers like me."
Jersa, who passed away in 2014, was thankful to have attended Fontbonne and learned from the Sisters of St. Joseph of Carondelet, the university's founders and sponsors. She said they taught her how to be a good teacher, and be a good person who gives back to the community.
Jersa loved the atmosphere as well the camaraderie among students, but most of all, she was impressed with, and grateful for, the genuine interest the sisters took in their students from day one.
"The loving care of the sisters was unmatched," she said. "You were not a number. You were a name. They were genuinely interested in finding your talents and bringing out your gifts. And they also emphasized the importance of giving back."
Jersa was teaching in Affton when she met a man named Mike and decided instead to pursue the joint goals they set together — to marry and raise a family.
Over the years, the couple had many blessings: a loving and enduring marriage; four children, three of whom they adopted; grandchildren, great grandchildren, and plenty of opportunities to give back to the people and places that had given them so much. Fontbonne was high on that list.
Jersa gave of her time to Fontbonne as a member of the Fontbonne Community Connection, a giving circle made up of alumnae and friends of the university. In 2008, she was the recipient of a Fontbonne Founders Award for Distinguished Service to Developmentally Disabled Individuals and to her parish community. She and her husband were members of the university's Legacy Society.
"Giving back to Fontbonne is important to me because I deeply believe in the core mission," she said. "It goes with all my values and morals. When you see an organization you totally believe in, you should put your time and your money and your talents into it. When you give, you get back hundredfold. Mike and I are great examples of that. God has been good to us."
Editor's note: With the blessing of her family, this story is in tribute to Nancy Jersa, who passed away shortly after it was written.
Please give now and support Fontbonne's greatest resource…our students.